Featured Item
LIMITED EDITION - Natural Cotton Flour Sack Tea Towel with 2013 Tea Pot Calendar - Original Illustration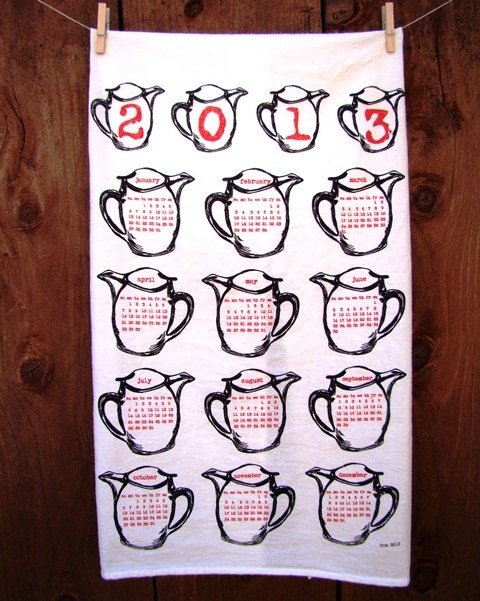 Use this lovely hand printed tea towel to brighten up an afternoon tea with friends, add a little joy to dish drying or to create a burst of festive imagery in your kitchen.

Images are original illustrations by Sharon Murriguez and have been screen printed by hand, making each towel uniquely one-of-a-kind. This particular design - the Casa M 2013 tea pot calendar - is a limited edition 50 print run. When they are gone they are gone! Each tea towel features a red twill hook top and center of the tea towel for versatility of use -- hang your towel from a hook or fold it over a bar -- either way it will look awesome!

We hope you enjoy your new usable art as much as we enjoy making it! 

If you like our 2013 limited edition tea pot calendar tea towel, check out our tea pot design in matching red and black: https://www.etsy.com/listing/114877653/natural-cotton-flour-sack-tea-towel-with

Or need a sweet holiday gift for yourself or a tea lover in your life, we've got a tea towel gift set that will make a super sweet presentation: https://www.etsy.com/listing/114878692/tea-towel-gift-set-3-flour-sack-tea


This flour sack tea towel is one hundred percent cotton and will get softer and more absorbent as you wash it. Machine wash cold or warm and tumble dry medium. If you want to smooth any wrinkles use a warm iron on the back side of the towel.
Or check out other Casa Murriguez goodies in our online shop.